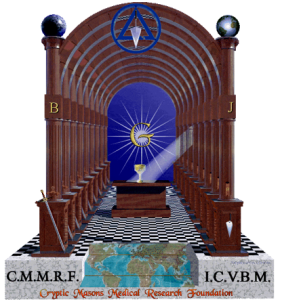 The General Grand Council Cryptic Masons Medical Research Foundation
was incorporated by the General Grand Council in 1986 to further research in the prevention of Arteriosclerosis or Vascular Biology. Voluntary contribution is the only means of support for this cause, no assessment is levied on either Grand Councils, or subordinate Councils for its continuance.
Arteriosclerosis is a disease affecting the arteries, the blood vessels which carry blood from the heart to all parts of the body. Arteriosclerosis, or "hardening of the arteries", results in the narrowing of these vessels, which progressively or abruptly interferes with blood flow. When a coronary artery supplying the heart muscle with blood is severely affected with arteriosclerosis, this results in a heart attack; when a major artery to the brain is affected, this results in a stroke; when severe arteriosclerosis affects the arteries of the legs, amputation may be the only possible treatment.
If a breakthrough in the understanding of the basic problems in arteriosclerosis occurs, this could bring within reach the definition of rational approaches towards the prevention and control of this disease.
Through your generosity toward the General Grand Council Cryptic Masons Medical Research Foundations, Inc., we could contribute substantially to research and eventual control of this disease.
Your contributions may be made in any of four methods:
1. Endowment Fund
2. Remembrance of relative or a friend
3. Bequests by provision in a Will
4. Promotion Fund
You are encouraged, during your year as Thrice Illustrious Master to make a contribution from your Council to this worthwhile foundation. All contributions should be sent to the Grand Recorder.
For further information,
please see their website at cmmrf.org. Or email them at cmmrf@aol.com.



ATTENTION Amazon Shoppers:
You can support Cryptic Masons Medical Research Foundation as you shop Amazon. It's easy, and cost you nothing. Simply do the following:
(1) Access Amazon through the URL address of:
(2) After logging into your account, at the top of the screen you can click in the select Charity box and specify Cryptic Masons Medical Research Foundation, Nashville Indiana, as your charity of choice.
(3) Whenever and as often as you shop Amazon, access Amazon through the smile.amazon.com address.
(4) One half of one percent of your purchase amount will automatically be sent to CMMRF. There is nothing more for you to do.
(5) WASN'T THAT EASY?